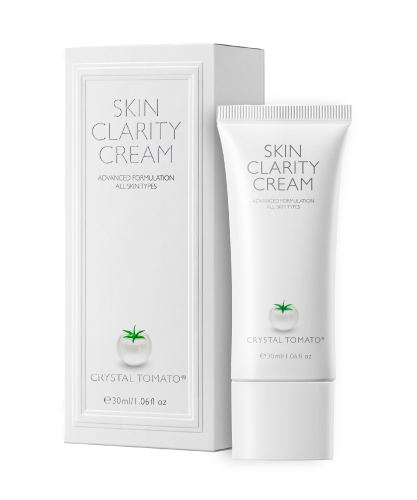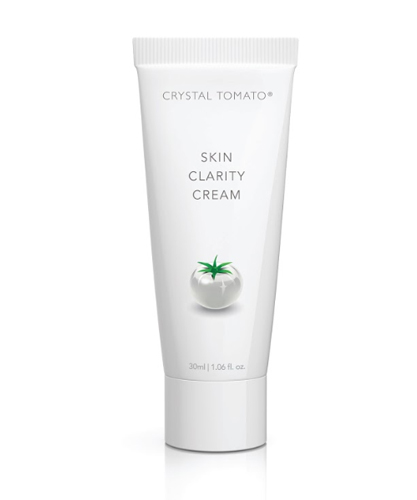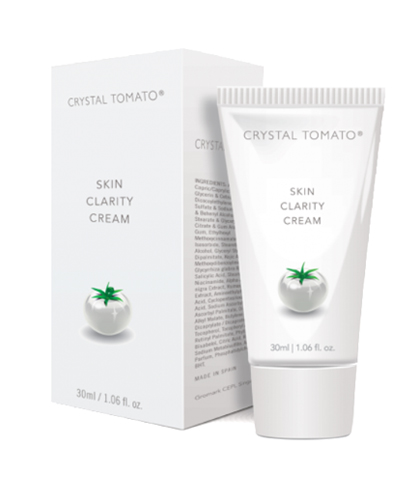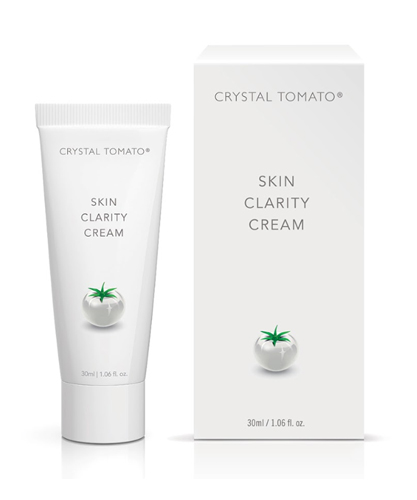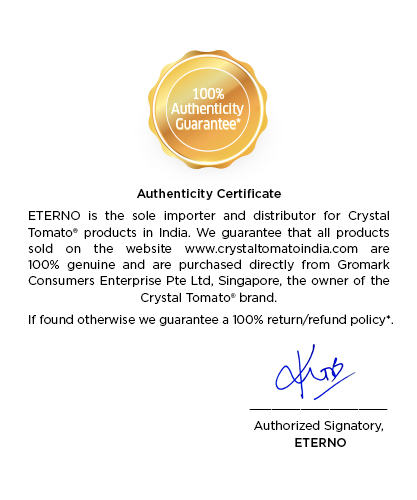 CRYSTAL TOMATO® SKIN CLARITY CREAM
It's a depigmentation cream that was produced for the treatment and management of skin spots, pigmentation patches and imperfections of a melanic origin. It brings new hope to sufferers and has gained acclaims from medical experts for its remarkable effectiveness. Its main active ingredient is Tyrosinase inhibitor complex and it is proof harsher isn't necessary better when it comes to stubborn pigmentation problems. It does not contain any harsh or toxic compounds and is suitable for all skin types.
Crystal Tomato® Skin Clarity Cream is formulated to reduce the four main causes of hyperpigmentation, they are:
UVA/B Rays
Free Radicals
Inflammation
Melanin Formation
It helps to clear Melasma spots and most forms of skin pigmentation
It helps to even out skin tone
It inhibits the formation of new pigmentation
It contains mild exfoliants to rejuvenate skin
It contains anti-oxidants, UVA and UVB filters, and anti-inflammatory and moisturizing agents to protect skin
It gives radiance to skin
It does not leave skin dry and irritated
It is convenient, safe and gentle for daily use

Aqua, Capric/Caprylic Triglyceride & Glycerin & Ceteareth-25 & Sodium Dicocoylethylenediamine & PEG-15 Sulfate & Sodium Lauroyl Lactylate & Behenyl Alcohol & Glyceryl Stearate & Glyceryl Stearate Citrate & Gum Arabic & Xanthan Gum, Ethylhexyl Methoxycinnamate, Dimethyl Isosorbide, Steareth-21, Cetearyl Alcohol, Glyceryl Stearate, Kojic Dipalmitate, Kojic Acid, Butyl Methoxydibenzoylmethane, Glycyrrhiza glabra Root Extract, Salicylic Acid, Steareth-2, Niacinamide, Alpha-Arbutin, Morus nigra Extract, Aminoethylphosphinic Acid, Cyclopentasiloxane, Stearic Acid, Sodium Ascorbyl Phosphate, Ascorbyl Palmitrate, Di-C12-13 Alkyl Malate, Butylene Glycol Dicaprylate / Dicaprate, Tocopherol, Tocopheryl Acetate, Retinyl Palmitrate, Phytic Acid, Bisabolol, Metabisulfite, Allantoin, Parfum, Phosphatidylcholine, BHA, BHT

Apply twice daily, morning and night, after cleansing. Massage lightly all over face until complete absorption, focusing on pigmentation spots.

During the day, treatment should be completed with the application of total sun protection against UVA and UVB with SPF50/PFA+++.